Dragging
You can create a task schedule by dragging the tasks up and down your task list. Just drag the tasks you want to work on right now to the top of the list and those tasks that are not so important can be dragged to the bottom.
Today & Week Schedule
Even though this is a simple way of deciding which task to work on first, it's not much of a schedule yet.
To help you plan your tasks better the list also contains a 'Today' and 'Week' and 'Someday' section. You can read the Task List as a timeline: everything below the 'Week' bar you plan to do sometime this week (within the next 7 days). Everything below the Today section you plan to do Today. The someday section can be used as a general bin for all the tasks you may or may not come around to doing. You can drag these separator bars to easily make large changes to your schedule.
Inbox, Weekday and month separators
There are a number of extra separators you can add to your task list:
Week days (Separators for every day of the week)
In 2 weeks
In 3 weeks
In 30 days
Inbox (For tasks you haven't yet put into your schedule)
To add or remove these task list separators click on the little "+" sign as shown below: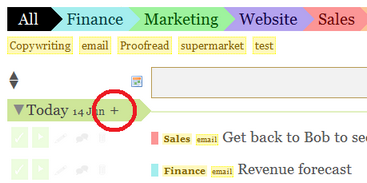 Deadlines
If some deadline will not be met according to your current schedule, the task will color red.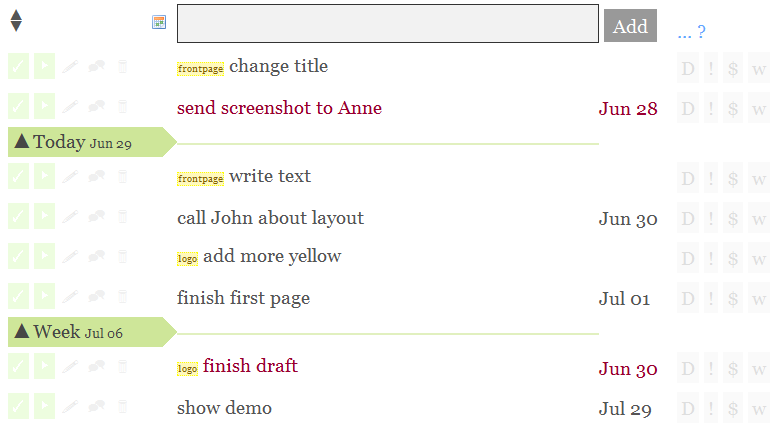 Automatic Updating
Thymer will also make sure your schedule stays up to date! Every night Thymer will automatically move tasks with deadlines to upwards to the right section of your task list. If a task with a deadline is due this week, it will be moved upwards to the "Week" section, if it's due today it will be moved upwards to the "Today" section. Tasks will never be moved further down your list. So if you put a task that's due next week in the Today section (indicating that you plan to work on it today) it will stay there until you drag it to a different place on the list.
This way your schedule is kept up to date and you won't miss any deadlines.