Not like the other task and project systems. Here's why.
1. Fast, smart input (using natural language processing)
Need to specify deadlines, tags, responsibilities and time estimates? No need to click through a dozen menus! Just type what you think and Thymer will figure out what you mean.
Examples
2. Unique One Page Design
A complete overview on one page. Planning, tasks, projects, and delegating: no need to go back and forth between different pages. The one page overview is a huge time-saver, and makes getting organized a breeze.
3. An Intuitive and Powerful Interface
Our timeline, smart input and one page concepts make Thymer feel very lightweight. We designed the simple interface to make you more productive, without distracting bells and whistles, and without bureaucracy. Controls only appear when needed. This lets you focus on getting you or your team forward!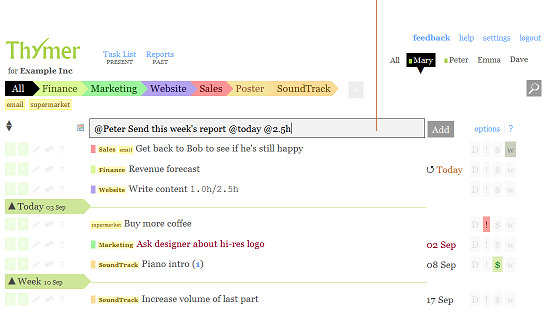 Take the Tour »